Japan (Advanced)
Click Subscribe to Enrol on this Course
Japan Cultural Awareness Training (Advanced) e-Learning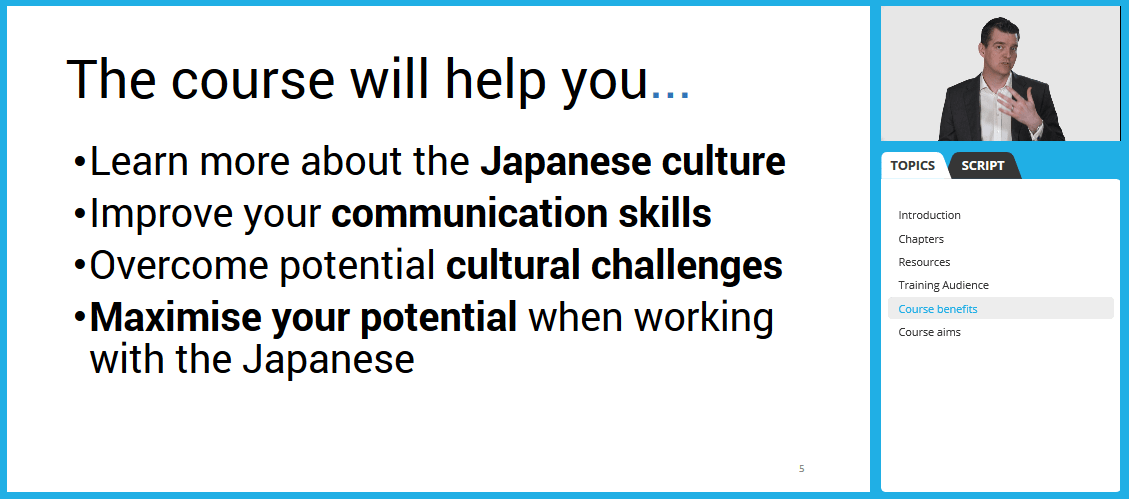 The Perfect Online Course for Professionals Working with the Japanese
✔Business Focused
✔Bite-sized Learning
✔Assessment & Certification
✔24/7/365 Access Across Devices
---
Who Is This Course For?
This e-Learning course has been produced specifically for professionals working with the Japanese.
Written by Japanese business and culture experts, this advanced level training course explores many of the challenges faced by foreigners working with, or in, the country.

The course equips learners with an in-depth understanding of the Japanese mindset and Japanese business culture.
It is packed full of essential strategies and best practices for professional staff working in Japan, or, with Japanese peers.

We also have an Introductory Course on Japanese Culture which does not go into as much detail as this advanced level course.

---
How Do I take The Course?
To take the e-Learning course, simply subscribe above to see pricing and set up an account on our learning management system, or...
This email address is being protected from spambots. You need JavaScript enabled to view it.




This email address is being protected from spambots. You need JavaScript enabled to view it.
The course contains a richly informative online presentation, delivered by a professional presenter and complemented with engaging...
quizzes

scenario-based learning

case studies

further study online resources
---
Assessment
Assessment is carried out during the course.
You will be asked multiple choice questions as well as questions based around case studies and workplace scenarios.
With a pass mark of 75%, the answers are marked automatically so you know instantly whether you have passed. If you don't pass, then not to worry! You can take the test as many times as you need and there's no extra charge.
---
Blended Learning on Japanese Culture
Although the e-Learning course is perfect as a stand-alone solution, it can also be used as part of blended learning.
Professionals looking for tailored support or specific insights into Japanese culture can participate in a follow-on live webinar or face-to-face training, tailored to meet their needs.
---
Team & Group Licenses
As well as individual licenses, we also provide team, group and organisational licenses.
Discounts are available as follows:
• 5% discount for orders of 5+ licenses
• 10% discount for orders of 10+ licenses
• 20% discount for orders of 50+ licenses
• 30% discount for orders of 100+ licenses
• 40% discount for orders of 500+ licenses
Please contact us to discuss your needs and how you can license our course.
All courses are SCORM Compliant. Read our FAQs page for more information on purchasing our courses.
---
White labelling & Reselling
All our courses are also available for white labelling and reselling.
If you would like to generate revenue through sales of our courses or want to buy a license to present our courses as your own, simply get in touch with one of the team.
Read our FAQs page for more information on purchasing our courses for your own LMS.
---
If you would like a course overview or have any questions, please use the form below.
---